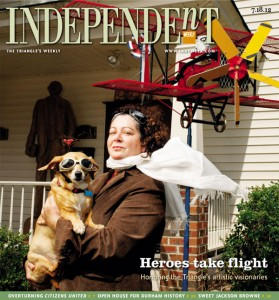 Outsiders is a recipient of the 2012 Indy Arts Award! Read all about it …
And listen to Pam's interview with Frank Stasio on NPR & WUNC's The State of Things!
Events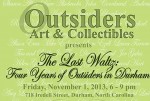 Friday, November 1, 6-9 PM
Silent Auction
Live Music &
Food Trucks

Outsiders Art & Collectibles
718-C Iredell St
Durham, NC 27705
Don't miss the Minus Sound Research 8 show in the gallery space Thursday-Saturday 12-5 through December 6th.Great review in IndyWeek!