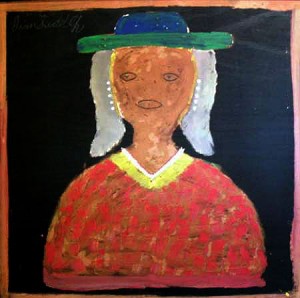 Jimmy Lee Sudduth, an African-American folk artist whose evocative, textured paintings made partly from Alabama mud were prized by collectors around the world, died last Sunday in Fayette, Ala. He was 97 and had lived in a Fayette nursing home in recent years. The Nelson Funeral Home in Fayette confirmed the death.
A self-taught artist who began painting as a very small child, Mr. Sudduth was renowned for the effects he could produce with his own homemade paint, which consisted of mud blended with a variety of common substances — soot, axle grease, sugar, coffee grounds and much else — to lend it color and texture.
Applied and worked with his fingers, the mud assumed contour, line and form. Painted on scrap lumber, sheet metal and most commonly on plywood, Mr. Sudduth's art often depicted everyday life in Alabama — portraits of houses, people, farm animals and his dog, Toto. But it also ranged over the architecture of faraway places, as in his paintings of Washington landmarks and his geometric scenes of New York City skyscrapers.
First exhibited formally in the late 1960s, Mr. Sudduth's work gained wide popularity during the folk art boom of the 1980s. Today his paintings sell for anywhere from several hundred dollars to $5,000, said Susan Mitchell Crawley, the associate curator of folk art at the High Museum in Atlanta.
His art is in the permanent collections of the Museum of American Folk Art in New York, the Smithsonian Institution, the High Museum of Art and the Montgomery Museum of Fine Arts. It was the subject of a book, "The Life and Art of Jimmy Lee Sudduth" (Montgomery Museum of Fine Arts, 2005), by Ms. Crawley.
Writing in The New York Times in 1997, Michael Kimmelman reviewed an exhibition at the Schomburg Center for Research in Black Culture that included Mr. Sudduth's paintings. He described them as "pictures of improbable chalky luminosity and understated bliss."
Jimmy Lee Sudduth was born in Caines Ridge, Ala., on March 10, 1910. (His first name was sometimes spelled Jimmie.) The details of his early life are hazy: he was believed to have been born to a family named Wilson and adopted by the Sudduth family when he was very young, Ms. Crawley said in a telephone interview on Friday.
The Sudduths moved around a great deal — both of Jimmy's adoptive parents were itinerant farmhands — and his formal education appears to have ended sometime in elementary school. As an adult, Mr. Sudduth could neither read nor write, Ms. Crawley said.
Mr. Sudduth's adoptive mother was also a medicine woman, and as a toddler, he accompanied her into the woods to gather plants. On one of those trips, he drew a picture in mud on a tree stump. When he and his mother returned to the spot a few days later, the picture was still there. She took this as a sign that her son must keep painting, Ms. Crawley said.
As an adult, Mr. Sudduth did a variety of jobs, including working in a grist mill, in a lumberyard and as a gardener. He continued to paint in mud, but there was a problem: once dry, the mud flaked off the plywood. Realizing he needed to add something to give the mud staying power, he found that viscous substances like molasses, honey, Coca-Cola and sorghum worked well. So did ordinary sugar. "Sweet mud," Mr. Sudduth called the result.
Meanwhile, Mr. Sudduth's wife, Ethel, wondered where all the household sugar was disappearing to.
Over the years Mr. Sudduth became a connoisseur of dirt; he liked to say that he could locate mud in 36 different shades. Once he became famous, people sent him dirt through the mail, Ms. Crawley said.
To expand his palette further, Mr. Sudduth colored his work with an astonishing array of available ingredients, either by mixing them into the mud or rubbing them directly onto his wooden canvas. They included flour, coffee grounds, instant coffee, dye wrung from sodden red crepe paper, ground brick, ground charcoal, colored chalk, crushed coal, turnip greens, flower petals, pokeweed berries, ivy, soot, axle grease, elderberries, crushed green tree buds, boiled jimson weed, sap, walnut shells, burnt matchsticks, tobacco, egg yolk, grass and leftover house paint donated by neighbors.
The only drawback to these recipes was that some of the finished paintings were supremely attractive to mice, which ate holes in them. In later years, when advancing age made it hard for Mr. Sudduth collect mud, he switched to painting in acrylics.
Mr. Sudduth's first wife died in 1941; his second wife, the former Ethel Palmore, died in 1992. Information on other survivors could not immediately be confirmed.
A prolific artist who could finish a half-dozen pictures or more in a day, Mr. Sudduth was sometimes asked why he never used a paintbrush.
"I paint with my finger 'cause that's why I got it, and that brush don't wear out," he said in an interview quoted in the catalog of one of his exhibitions. "When I die, the brush dies."
Reprinted from NYTimes
September 9, 2007
Jimmy Lee Sudduth, Folk Artist, Is Dead at 97
By MARGALIT FOX