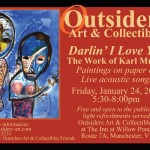 Karl Mullen
Artist Reception & Opening
January 24, 2014
5:30 – 8:00 PM
Inn At Willow Pond, Manchester VT

About the Artist
Karl Mullen, born 1954 in Dublin, Ireland, lives in Williamstown, Massachusetts where he works in a studio in the cow stall of a nineteenth-century barn. He has developed his own distinctive approach to art making, utilizing walnut oil, raw powder pigment and a wax medium that coalesce into color-saturated, luminous images. Painting largely with his hands, Karl creates primitive, poetic figures that float on fields of color.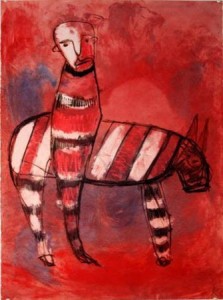 Karl's ground of choice is artist-stock Arches paper, old book pages, sheet music, photographs and other ephemera that glow with the passage of time. Recently he has been experimenting with non-traditional materials such as wine, tea, salt, Indian spices, spit and ash, applied with bottles, knives and other kitchen utensils to give a draftsmanly quality to his work.
Mullen's paintings reside in many private collections in the U.S. and Europe and in the permanent holdings of The Polk Museum, The Hurn Museum and Robert Morris College. They were also showcased in the PBS syndicated TV series Rare Visions & Roadside Revelations and are included frequently in art/design magazines such as Home Accents and Elle Décor.His work is shown annually at The New York Outsider Art Fair, The Intuit/SOFA Show , Chicago, Folk Fest, Atlanta and in galleries in the US and Europe.
About Outsiders Arts & Collectibles
Outsiders Art & Collectibles is Manchester, VT's only gallery focusing on the genre of Outsider Art. Outsider's owner, Pamela Gutlon, uses the gallery, not only as a venue for exposing Manchester and the surrounding areas to Outsider Art, but also as a means towards creating community.