August 17, 2013 – August 23, 2013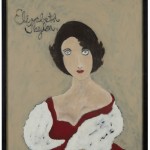 Artist Reception: Saturday, August 17 11AM – 5PM
Portraits by NC artist Gary Owens, highlighting global Icons of Influence from past 70 years.
Outsider Art & Collectibles is pleased to present selections from the Art is History Project, a 50-plus painting exhibition by Chapel Hill artist Gary Owens featuring iconic figures who have influenced world history over the past 70 years.
Owens' subjects include political, cultural and societal movers and shakers of all types — from Mao Tse-Tung and Martin Luther King to Doc Watson and Pope John Paul II. The paintings will be on display Aug. 17 to 23 in the Outsider Art & Collectibles gallery in Durham.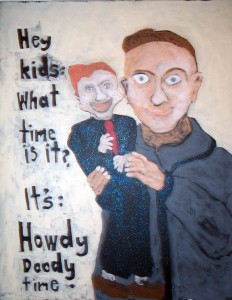 "Gary's work brings history to life in a very fresh, unique way," said Pamela Gutlon, the owner of Outsiders Art & Collectibles. "His paintings highlight Icons of Influence that have shaped our world, inspiring us to reflect on all that has happened since the mid-20th century and the major impact these prominent individuals have had on all our lives."
The Outsiders Art & Collectibles showing is the first public stop in a traveling exhibition designed to introduce North Carolina middle and high school students to influential, post-World War II figures in American and World history. As it travels to schools throughout the state, Owens' exhibition will provide North Carolina humanities students with a riveting visual experience, delivering an engaging look into the lives and legacies of the most pivotal people of the past seven decades.
"History tells us what happened, and art tells us how we felt about it," says Owens. "These paintings speak volumes about linking art to the power of the human spirit."
A self-taught artist, Owens was born in 1943 in Milledgeville, Ga., and educated at Georgia Military College. This is his first solo show. The collection will be available for short-term loan to schools starting in November.
Artist's Reception: Saturday, Aug. 17, from 11 a.m. to 5 p.m.
This reception offers the opportunity for educators and the public to meet the artist and discuss his work. Throughout the day, Owens will be clarifying the social and personal contexts for his portraits through creative storytelling.