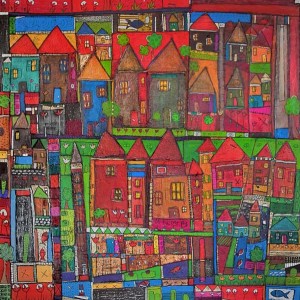 Born in 1966 in Le Havre, Pierre Henry Guérard grew up in a family famous throughout France for the highly emotional firework displays they produced in celebration of great national events.
As a young man, Pierre-Henry could not escape the powerful influence of his environment and by his early twenties was not only producing major pyrotechnic shows in his hometown of Le Havre including the inauguration of the Oscar Niemeyer building and the return of the famous passenger liner Le France, but had also become recognized for his other artistic talents. While only in his teens, he was already designing toy store windows and selling his sculptures to pay for his education.
Pierre-Henry uses a variety of materials in his paintings including acrylic, cement, sand and soil. His magical mix of natural pigments has made him famous for his Reds of Life.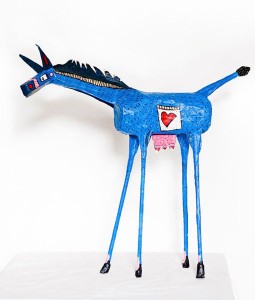 He repeats his use of uncommon materials in his sculptural work; recycling discarded objects such as old boxes, tin cans and plastic containers. By decorating these objects with many of the same colors used in his paintings, PH has been able to establish continuity to all his works.
Each piece, be it painting or sculpture, tells it own unique story, yet all of the stories emphasize the simplicity of nature depicting farm animals, trees and landscapes which Pierre wraps in a nave style, emoting the heart of a child who refuses to grow old.
Before his recent move to New York, PH lived 11 years in Essaouira, Morocco, where the oriental lifestyle inspired much of his work. During that period Pierre opened two art galleries, one in Le Havre and one in Essaouira, LOrange Bleue, Mogador.