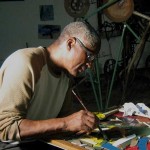 September 25 – October 25, 2013
Reception with Charlie Lucas
Wednesday, September 25 5:30-8PM
Live Music & Food Trucks
Charlie Lucas is a self-taught outsider artist who transforms scrap metal and other salvaged materials into sculptures, collages, and paintings. He is at home in his handmade art environment and workshops located in Pink Lily, a tiny speck on the map of southern Alabama, where giant metal horses and rusty dinosaurs keep company with the grazing cows. In recent years, he is also at home in Selma, Alabama, where he is turning an old factory building into his new studio and gallery.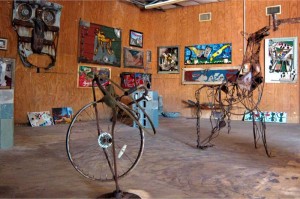 Charlie spends some of his happiest hours driving around in his truck collecting other people's cast-offs, and bringing the so-called trash back to life in a new form. He cuts, bends, weaves, and welds scrap metal into fantastic assemblages filled with faces and motion. His paintings are abstract views of people and animals involved in life's struggles and joys. He paints on scrap wood, adds more scrap objects, and uses salvaged materials for frames. He says the scraps and parts speak their stories to him even before he cuts and welds them together. Charlie can tell a story for every piece of art he creates, but he also encourages viewers to look for themselves and make up their own stories. He refers to his creations as toys.
During a childhood filled with struggle and alienation, Charlie took refuge in making things to play with, taking them apart, and remaking them. He didn't consider himself an artist. He was just making toys.
In 1984 a major back injury at work required a long painful recuperation, but it also brought Charlie a revelation. He finally recognized the artist within himself and resolved to spend his life doing what he loved to do. He called his new artistic identity "Tin Man."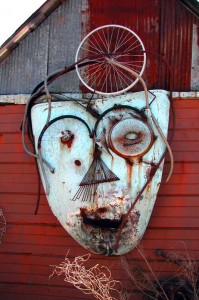 Throughout his artwork Charlie Lucas pays homage to his ancestors, whether they are relatives that he knows intimately, or ancient anonymous ones. The spirits of his mother, grandmother, and great-grandfather, flow through the metal and paint as surely as they flow through the blood in his veins. He equally feels the spirits of the nameless ancestors that endured the middle passage and a life of bondage. His work evokes the fluidity and connectivity of life over time, and its constantly changing form.
Charlie's message to the children and adults that come to learn from him is that everything can and does become something else. We may think a piece of trash is ugly, but it can be made into something beautiful. You may think a person is worthless because they are uneducated, but they have the potential for greatness inside. You may think misfortune has ruined your life, but it might also bring you to a brighter path. Our ancestors never leave us, because we ourselves are made up of their pieces.
Charlie tells his life story in his own words in "Tin Man," a beautiful book illustrated with striking photos of his work, published in 2009 by The University of Alabama Press. His work is widely exhibited and highly valued by museums and galleries. As a visiting artist to many schools & universities, he is an inspiration to students and artists of all ages.
When you meet Charlie Lucas standing in the shade on a hot day in Pink Lily, Alabama, he seems to be a happy man at peace with the universe. The freedom to create his art is the source of that happiness and peace. Just as he has transformed scraps into art, his art has transformed his life. (Karen Mack, 2013)
About Mike's Art Truck: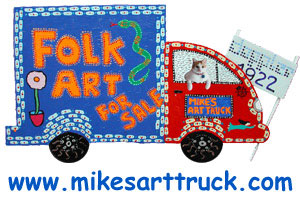 Mike's Art Truck is a "virtual" folk art gallery that has recently arrived in the Triangle from Atlanta. Greg & Karen Mack promote and sell the work of a wide range of self-taught artists from their website and through cooperation with other galleries and businesses. They are excited about their new friendship with Outsider Art & Collectibles and look forward to bringing some great folk art to our area. Visit them on their website www.mikesarttruck.com