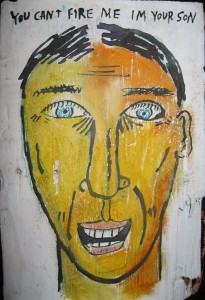 Roderick McClain's work takes place in medias res, often with a face emoting the crux of a particular story. With text giving voice to character, Roderick's mixed media creations illustrate a moment in a life, using a few details to hint at a full-blown context. Roderick is interested in how a few words can place a character in a moment of intense relationship with someone or something.
As a writer as well as an artist, Roderick is working on a novel about how a traumatic brain injury affects the lives and choices of a small family in the rural Midwest. As an artist, Roderick sketches from old photo albums, mug shots and memory in an ongoing study that explores the role of a human face within a story. Availability of materials often influences the kind of work he makes. Most of his materials are found or second-hand, with the color palette dictated by whatever media is most accessible.
Roderick was born in central Illinois in 1978. Son of a botanist and a bookkeeper, he grew up in a long-gone prairie, spending time in his grandmother's garden and watching a lot of TV. After absorbing the ethos of a small Midwestern town dependent on commercial agriculture, Roderick took to art, music and writing. He co-founded an independent record store in Ann Arbor, Michigan, toured the country as a musical artist and worked as radio journalist. He has an MFA in fiction writing and lives with his habits in Durham.