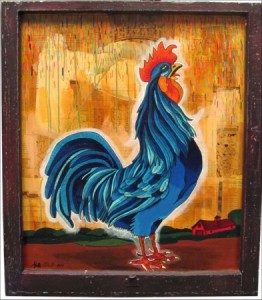 Gabriel Shaffer lives and works in Asheville, NC. The son of renowned folk / visionary artist Cher Shaffer, Gabriel was raised within the self taught medium and had contact with many folk and outsider artists as a young boy. Always creative, he spent much of his early youth drawing, painting, writing poetry and prose. From the ages of 18-27, he focused heavily on writing hundreds of poems and short stories, while performing in a few bands at such notable events as South By Southwest, Austin, TX and Around The Coyote Festival, Chicago, IL. In June, 2002, at the age of 27, in a deep depression, Shaffer had an epiphany while experimenting with painting. He has since focused solely on visual art.
Gabriel first sold his earliest works In January 2004 during the Outsider Art Fair, to several collectors and had his first exhibition in July 2004, at the Broome Street Gallery / Historic Cedar Tavern, New York City. Since then his work has been received with amazing acclaim. He has already exhibited in over 80 shows and sold hundreds of works of art to collectors, rock stars, celebrities, politicians, best selling authors, galleries and museums, throughout various major cities nationally and internationally, including a very strong debut, with the Berenberg Gallery, Boston, MA, at the Outsider Art Fair 2005. He has appeared in dozens of magazines, newspapers and blogs such as Raw Vision, Art Papers, Traditional Home, Architectural Digest, NY Arts Magazine, The Huffington Post, An Nahar (Beruit, Lebanon's most prestigious newspaper), US Airways Magazine, Café Royal, WNC Magazine, Lifelounge, C-Monster and Juxtapose. In 2009 Gabriel was voted western North Carolinas #1 visual artist for the Best of WNC awards, in the Mountain Xpress newspaper.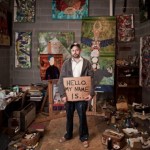 Gabriel's unique paintings are literally layer upon layer of primitive graffiti, child like drawings, free association, collage and mixed medias. The paperwork he uses for his collage technique is usually salvaged from assorted locations (abandoned hospitals, dilapidated factories condemned houses, dumpsters, flea markets etc.) Old handwritten journal pages, vintage children's art, ledgers, financial records, pages from out of print books are all reincarnated to create a living circuit board of color, texture and information, used to communicate eerie narratives and mythological characters inspired from his imagination, visions, experiences or dreams.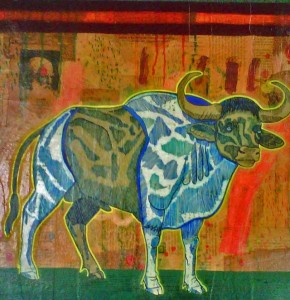 "Gabriel Shaffer's work reconsiders rural Southern spiritualism in a more open, contingent realm where archetypal stories take on an urban patina. Fusing elements of craft, graffiti, Native and Mesoamerican iconographies and the conflicted genre of visionary/outsider art, he fashions a renovated vision of regional history. With a psychedelic company of creatures and characters, Shaffer animates this mythology across drawings, assemblages, and paintings that include totems, cityscapes, portraits and masks. The grounds for these works include a variety of salvaged materials that he re-shapes into a "mongrelized," 21st century model of "urban folk art". Salvage and serendipity are a crucial part of his process, creating openness to chance that infuses both his subject matter and materials. Roaming flea markets, abandoned factories and alleyways, he collects everything from handwritten letters, ledgers, books and children's art to doors, boxes, discarded window frames and metal. This philosophy of gathering and collage allows him to picture culture with culture and propels his work into a larger archetypal arena. Seeing street artists as the folk artists of today, Shaffer translates material history and mystic tradition into the fodder for prophetic dreaming and creates a platform for ancient deities to travel to the present. As they move between realms, linear concepts of time, bend to an eternal "now" where icons are regenerated through a contemporary application."  Steven Matijcio, Curator of Contemporary Art, SECCA