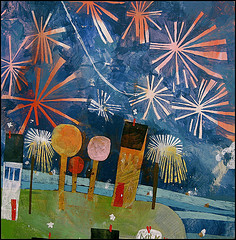 Milk taught himself to paint in his twenties when he was painting houses and his own house was filled with left over paint and cast off wood. He sold his first paintings on the street in Manhattan and then returned to Virginia, in 2001.
His paintings are autobiographical, or as he says, 'Perhaps they are wishes. They are usually about serenity, hope, and the fear of loneliness. They are about hats I wish I had."
In addition to his painting, he also performs with his sister, puppets, and musicians.