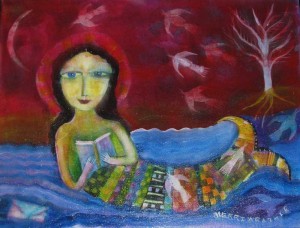 Allison Merriweather is a true "outsider" artist. She is compelled to paint by a force she does not understand. She uses symbolism, often repeated across various works, in both large and small ways. The ferocious animals in many of her works are an obvious theme; the little green grasshopper which hops among many of her canvases is a less obvious one.
Allison Merriweather is a dreamer and a visionary. Her highly charged instantly recognizable style has gained wide acclaim among the viewing public. Reality is rearranged and transformed in her mind into intensely personal visions which she then transfers to canvas with directness, freshness and a "passionate uniqueness" as one critic put it, obeying no rules but those of her imagination, Allison's paintings possess a mysterious poetry.
Above all she is a masterful storyteller, putting elements within our grasp and counting on the viewer to draw the correct conclusions.
Allison has had an incredible number of one-woman exhibitions, many in California at venues including the Upstairs Gallery, The Lab, the Wells Fargo Exhibition Room, the American Institute of Architecture, and others. Her prints have been featured at the American Visionary Museum in Baltimore, Maryland. At last count, she has participated in almost thirty juried shows with many awards and publications including Artweek and Man In Nature.
Her paintings are in many corporate collections – among them are The Tanaka Group, Tokyo, Intersource Group, Los Angeles, and Altec Digital Industries, Redwood City, California.