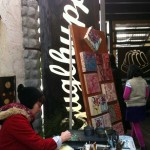 Saturday, December 8th
10:00AM – 4:00PM
The patio at Guglhupf comes alive with the 4th annual Weihnachtsmarkt!
Outsiders Art & Collectibles once again joins Guglhupf Bakery, Cafe & Patisserie to host the 4th Annual Christmas Market on Saturday, Dec. 8 from 10:00 – 4:00PM.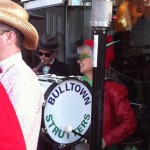 Do your holiday shopping while you get a bite to eat, and enjoy a glass of Glühwein or mulled cider as you stroll through this festive gathering! The event, now in its fourth year, will include artists, food and live music. In addition, Lakewood Avenue Children's School will host a book drive for Book Harvest, happymess Studio will host a craft table for children and Cassandra from Character Paints will be doing face painting! Live music provided by The Lester Fricks Band, The Bull Town Strutters and more!
About The Artists:
Sandra Elliott is an interior designer and painter who spent her fiftieth year with an art project called 365 paintings in 365 days as a fundraiser for "Free the Children" to build a school house in Kenya. They raised more than $50,000 dollars and were able to build many more than one school!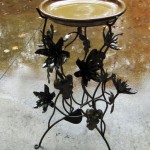 Mike Esslinger's art is crafted from cold rolled steel, sheet metal, and often salvaged parts. His love of big sky country, especially its nightscapes, inspires many of the moon and star pieces that Mike creates. All pieces are meant to age with the weather and give a timeless quality to their surroundings. Farm work instilled in him a love for the outdoors, working with his hands, repairing farm machinery, and all things mechanical.
Sam Ezell was born in Mebane, NC in 1953 and brought up in Durham. He has worked at the Daniel Boone Company in Hillsborough and has been doing general property maintenance there since 1971. Sam began to paint in 2008 at the request of his good friend and outsider artist, Bernice Sims. Sam now has his work in several galleries and looks forward to meeting more friends and becoming more involved in the art community in this region.
Iskabibbles is a husband and wife team from North Carolina indulging in their love for making art-inspired products. They believe that art-based perspectives enrich communities and the relationships within them. Inspired by a sense of discovery and whimsical-indulgence, they offer an eclectic line of products for all of those young at heart.
Born and raised in Denver, Colorado, Libby Lynn moved to Alabama in 1992, and eventually settled down in North Carolina in 2000. She discovered the ancient technique of Encaustic painting, a combination of beeswax, tree sap and pigment. The wax paint is melted and quickly transferred to a hard surface. In order to become chemically stable, each layer of wax must be fused with a heating device. Hair dryers, hot guns and propane torches are the most common fusing tools.
Jena Matzen is a self-taught jewelry designer and metal smith who has been creating art for over 40 years. She loves the creative process, appreciates minimalism, and is inspired by nature as well as ancient and contemporary art and design. A former civil rights lawyer, clinical law professor and environmental and human rights activist, Jena now lives in Durham, North Carolina with her husband and children.
Moss Robot is comprised of Matt and Lisa Wood, designing, shaping and building all that they can dream up. They officially launched Moss Robot in March of this year but really got going 7 years ago when they started creating special pieces for each other. Now a bustling workshop where there ideas can grow into prototypes, better concepts and elegant designs, they strive for shapes that are original and eye-catching using materials that are unique and exotic.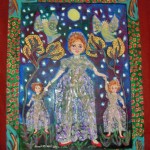 North Georgia resident Sarah Rakes remembers first being fascinated by art at the age of nine, when a travelling museum show came through her small Arkansas town. During teenage years marked by loneliness, she frequently turned to drawing and sculpting as an escape. Rakes did not turn to art again until 1986. Her paintings are a rich testament to her rural experience and passion for nature; pots of flowers undulate with color, and fields of ripe pumpkins glisten under the blazing sun. The intensity of her creations is further enhanced by the exhilarating painted frames she places them in. (Used with permission from Ginger Young.)
Cher Shaffer's career as an artist is highlighted with many accomplishments. She is represented in several public and private collections including that of Whoopie Goldberg, Jane Fonda, Richard Dreyfus, Rob Reiner, Henry Winkler and one of her most appreciated, fellow artist, Thornton Dial. In 1989 Shaffer's work appeared in the traveling exhibition O, Appalachia: Artists of the Southern Mountains and in the publication by the same name. Also in 1989 she appeared on the "Today Show" on NBC. Her work has been featured in several publications including Art Voices South and Country Home.
Carrie Young, age 14, has been creating art since she was in preschool. Growing up in a household that doubles as an art gallery has helped shape Carrie's creative passions. Her first forays into marketing her works came when she was nine, when she exhibited her hand knit hats at her mother's gallery art sales; more than once, she sold more works than any of the other artists represented. Today, Carrie's portfolio includes jewelry, fused glass, and hand sewn items (most notably her coffee bean bags). She most enjoys designing and crafting jewelry. Her work revolves around hammered metals, precious stones, and handcrafted glass beads.
About Book Harvest:
Book Harvest is a Triangle nonprofit that collects used books for children and young adults and places them into the hands and homes of children who need them. Bring your gently used books to Guglhupf and the donated books will be given to children through more than twenty local organizations, including Durham's own Welcome Baby, Walltown Neighborhood Clinic, and SEEDS.
About happymess:
happymess inspires creativity & enriches lives by offering a wide variety of art classes and workshops and experiences for all ages exploring various media. No experience necessary!