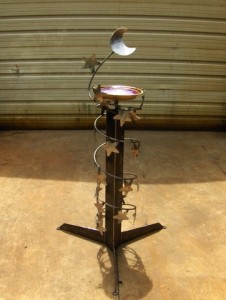 Mike Esslinger's art is crafted from cold rolled steel, sheet metal, and often salvaged parts. His love of big sky country, especially its night scape, inspire many of the moon and star pieces that Mike creates. All pieces are meant to age with the weather and give a timeless quality to their surroundings.
Mike was born in Emporia, Kansas on October 22, 1949, and as a child moved with his family to Oklahoma, Texas, and later to Georgia, where he has lived since he was 14. He was always homesick for his childhood home in KS. and worked on his uncle's farm every summer until he graduated from high school. Farm work instilled in him a love for the outdoors, working with his hands, repairing farm machinery, and all things mechanical.
Mike moved from Atlanta to N.E. GA. in 1976. In 1977 started working for the Department of Corrections where he stayed for 16 years. He is married to the self-taught artist, Sarah Rakes. They have three grown children, who were raised on 21 rural acres surrounded by national forest. Mike first began making arbors and trellises for Sarah's garden and soon his own unique vision of art for the garden, porch and patio found their way into the homes and gardens of collectors.