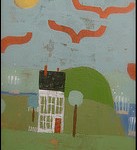 Friday, January 27 5:30-8:00PM
Live Music (Blue Tailed Skinks), Book Harvest and Food Trucks (Pie Pushers and KoKyu BBQ)!
Please join us on Friday, January 27 from 5:30 – 8:00PM to welcome Chris Milk Hulburt back to Durham! His solo show contains many pieces that will leave you starry-eyed!
About Chris Milk Hulburt:
Milk taught himself to paint in his twenties when he was painting houses and his own house was filled with left over paint and cast off wood. He sold his first paintings on the streets of Manhattan and then returned to Virginia in 2001.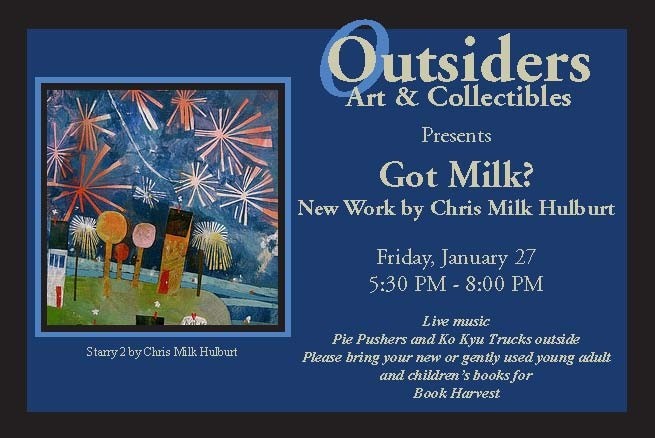 In an interview with Stephanie Lebow last year, Milk said his paintings are autobiographical, or as he says, "Perhaps they are wishes; they are about serenity, hope and the fear of lonliness. They are about hats I wish I had." He explains that his work focuses largely on musicians and entertainers, stemming from his life long attraction to the world of the performer. He is also a puppeteer and that along with his painting allow him to pay homage to his inspirations while remaining behind the curtain; a position that's much more comfortable for this self described 'stage-shy' artist.