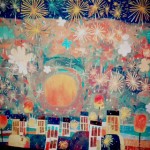 The Sun, and other Saviours
Work by Chris Milk
Thursday, April 18 5:30-8pm
Full details & other events here
Help Preserve New Orleans Blues
Wednesday, April 17 5:30-8pm
On The Street: American Meltdown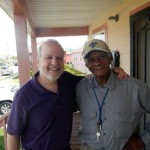 Come hear about the great and under-appreciated New Orleans bluesman Little Freddie King, and about Barry Yeoman's project to tell his life story in a rich, multimedia, longform narrative.
Little Freddie King is one of the last great country bluesmen in New Orleans. In the mid-1950s, as a teenager, he hopped a freight train from McComb, Mississippi to escape the hard life of a sharecropper. He taught himself to play guitar, then found work performing at the city's corner nightclubs, including one notoriously nicknamed the Bucket of Blood. King played on weekends and fixed car alternators by day. He was scrappy and drank hard for much of his adulthood. In 1986, his wife stabbed and shot him in a jealous rage. Forced by his injuries to quit drinking, he underwent the transformation into the man he is today: a quiet, modest gentleman who still plays a hard-driving "gutbucket" blues. At Outsiders, Barry will share an excerpt about King from the radio documentary Still Singing the Blues, which he produced with Richard Ziglar. He'll talk about his new project and his Indiegogo campaign. Outsiders will donate a portion of the evening's sales to the project.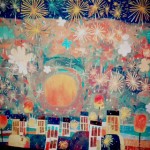 "The Sun, and other Saviours"
Work by Chris Milk
Thursday, April 18 5:30-8pm
Show runs through May 11
Music by: Matt Phillips and the Philharmonic
Chris Milk lives in Oregon Hill, Virginia, with a family of cats. The James River is two blocks away. He began to paint, in the same neighborhood, many, many years ago, and, recently returned, finds it feels like home. He shows his paintings at a few galleries, and yearly at Fearrington. He performs puppet shows, with his sister, and paints, alone. More of Chris' work can be found on here.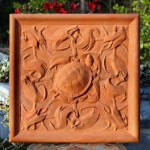 Windows to The Natural World
Sunday, April 21 12-5pm
Durham artist and sculptor Caroly Van Duyn, owner and founder of Artistrystone, Art Tile and Architectural Art, will be exhibiting and selling her handcast, sculptural, relief art works. This show will feature Ms Van Duyn's depictions of nature, and the creatures that inhabit our natural world, wrought in the ancient and architectural medium of concrete. The artist handcrafts each artwork and finishes every piece with a custom stain or leaves it in it's handsomely pigmented natural state. Free and open to the public. Light snacks will be served. Please note that our block of Iredell Street will be blocked off for the Ninth Street Derby so please park on Broad or Ninth Streets.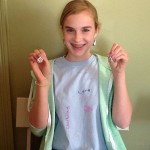 Art for the Animals: A Teen Show & Sell
Sunday, April 28 1-4pm
Artwork by 5 Duke School 8th graders
On the Porch: The Duke School Jazz Rock Combo
On the Street: Waggin' Wagon (a food truck for dogs)
A portion of sales will go to Paws4Ever, a local no-kill animal shelter. Free and open to the public. Light snacks will be served.