Reception with self-taught artists Cher Shaffer, CM & Grace Kelly Laster, Alison Erca, Rose Rosely, Garbriel Shaffer, Jena Matzen, Linwood Hart, Eric Legge and Amy Lansburg
Friday, December 10, 2010
5:30 – 8:00 PM
Book Drive for Book Harvest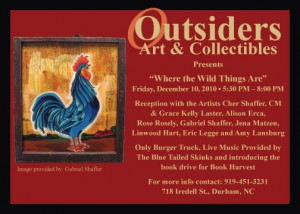 Outsiders Art & Collectibles hosts self-taught artists Cher Shaffer, CM & Grace Kelly Laster, Alison Erca, Rose Rosely, Garbriel Shaffer, Jena Matzen, Linwood Hart, Eric Legge and Amy Lansburg at an exhibition and sale of their work on December 10 from 5:30 to 8:00 pm at 718 Iredell Street in Durham.
To celebrate the "Where the Wild Things Are" theme of this special evening, Outsiders is thrilled to host a drive for Book Harvest, a new initiative to collect gently used children's' and young adult books and to place them into the hands and homes of children who need them. This event is free and open to the public.
There will also be a second event with all the artists on Saturday, Dec. 11 from 10:00 – 5:00PM at Guglhupf Bakery, Cafe & Patisserie for their 2nd Annual Christmas Market. Guglhupf is located at 2706 Durham – Chapel Hill Blvd. in Durham. www.guglhupf.com.
About The Artists:
Nationally renowned, self-taught visionary artist Cher Shaffer began painting over 40 years ago and her works have been embraced by an enthusiastic community of collectors. Cher was featured in the landmark book and travelling exhibition "O, Appalachia" in 1989 and her art has been the subject of numerous one-woman and group shows.
CM and Grace Kelly Laster and their five year old daughter Ruby Elvis Rose are a family of artists from Kentucky. They travel the country in their third artcar, the Inner Galactic Shack-allac, participating in parades and showing and selling their art in museums and galleries nationally and internationally. Their work is in the permanent collections of the American Visionary Art Museum, The House of Blues, The Bill Clinton Presidential Library, and the Library of Congress Folk Life Center and at the Historical Society of Washington, DC. Their art work reflects a variety of themes, particularly visions, dreams, music icons, historical figures, the rural south and the natural world.
Southern folk artist Eric Legge moved to the urban art scene of Asheville, NC from the rural mountain valley of Dillard, Georgia two years ago and has transformed both worlds with his magical pallet of colors. His Appalachian roots show thru in his paintings and creations which are often done on recycled materials or other found objects and is inspired by the mystical magical world of the Southern Appalachian Mountains. Legge's work has recently been seen in Alabama, Georgia, and in Florence, Italy.
Born in Pennsylvania, Alison Erca moved to a rustic farmhouse in NC in 1991. She made her first collage when she was six years old from old magazines that her grandmother had. Alison has quite the diverse background: She is a biologist, who became a lawyer, who became a farmer and artist.
A favorite of The Durham Craft Market, Rose Rosely lives outside Carrboro in North Carolina. Rose is a self taught artist that at another time worked doing illustration and animation in Los Angeles at Klasky-Csupo, Nickelodeon and Warner Brothers. Her own films have won awards and have been shown on Sesame Street. Now Rose works mainly with house paints and recycled wood and metal and any other things she finds.
Gabriel Shaffer lives and works in Asheville, NC. and is the son of renowned folk/visionary artist Cher Shaffer. Gabriel first sold his earliest works In January 2004 and since then his work has been received with amazing acclaim. He has already exhibited in over 80 shows and sold hundreds of works to collectors, rock stars, celebrities, politicians, best selling authors, galleries and museums throughout various major cities nationally and internationally. In 2009 Gabriel was voted western North Carolinas #1 visual artist for the Best of WNC awards.
Jena Matzen is a self-taught jewelry designer and metal smith who has been creating art for over 40 years. She loves the creative process, appreciates minimalism, and is inspired by nature as well as ancient and contemporary art and design. A former civil rights lawyer, clinical law professor and environmental and human rights activist, Jena now lives in Durham, North Carolina with her husband and children.
Linwood Hart lives in North Carolina and paints with acrylics and sometimes embeds paper and fiber materials within the paint as he works. Multiple layers are built up until at some point he starts to scrape, scar and melt the canvas to create the surface and texture he is seeking. It is in the continual process of covering up then revealing of the undercoats that my paintings come forward or recede on the canvas. In September 2010, Linwood was selected as the he Durham Art Guild's 2010-2011 Artist-in-Residence at Golden Belt. Georgia-based artist Amy Lansburg is a self-taught artist who began by making furniture pieces from driftwood and found items. Her media often remains the same, but her work has expanded from the furniture phase to pieces that make more of an artistic statement. Her current work still embodies furniture; however, her focus has really switched to two- and three-dimensional figures with the basis of the figures is still driftwood.
About Book Harvest:
Book Harvest is a new Triangle initiative to collect gently used children's and young adult books and to place them into the hands and homes of children who need them. Time and again, studies demonstrate the tremendous power of books on the lives of children. The data show, for example, that the single biggest predictor of academic success is not race, income, or geographic location; it is the presence of books in the home. Yet many children in the Triangle lack books. Help us give them books by bringing your gently used children's and young adult books to Outsiders Gallery and Guglhupf! The donated books will be given to children through local organizations, including Durham's own Read Seed, Rogers-Eubanks Neighborhood Association and Interfaith Council for Social Service of Chapel Hill and Carrboro. To learn more or to volunteer with Book Harvest, please visit www.bookharvestnc.blogspot.com.
About Outsiders Art & Collectibles:
Outsiders Art & Collectibles is Durham's only gallery focusing on the genre of Southern Outsider Art. Outsider's owner, Pamela Gutlon, strongly believes that bringing Durham's business, nonprofit, and art communities together better serves the community as a whole. For more information about the gallery or this event, contact Pamela Gutlon at pgutlon@outsiders-art.com, or call 919-451-3231.