Featuring Works By
Chris Milk Hulburt
Bart Schultz (The Masking Tape Guy)
Meet the Artists and Reception
Wednesday, November 2, 5:30 – 8:00 PM
Live Music by Down River
Ko Kyu, The Parlour and Only Burger Trucks!
Book Harvest: Please bring your gently used or new books for children and young adults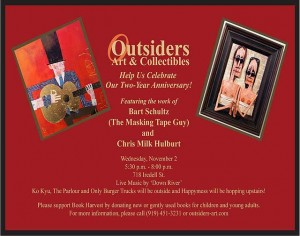 Outsiders Art & Collectibles celebrates it's 2 year anniversary with an exhibition of work from two emerging outsider artists, "The Masking Tape Guy" Bart Schultz and Outsiders' newest addition, Chris 'Milk' Hulburt on Wednesday, November 2 from 5:30 to 8:30 pm at 718 Iredell Street in Durham. This event is free and open to the public.
Opened in November, 2009, Outsiders Art & Collectibles is Durham's only gallery focusing on southern outsider (self-taught) art. Over the past two years, Oustiders Gallery has grown from one room at the front of a hair salon on Iredell Street to the whole building including studios and classroom space upstairs at happymess. In addition to her gallery, Gutlon brings the outsider genre to other venues and now hangs outsider artist at Guglhupf, Parker & Otis, Rue Cler and Fullsteam Brewery. Recently she was contacted by the Durham Convention Center to hang art from Outsiders in their space at the Marriott.
From the beginning, Outsider's owner, Pamela Gutlon, has strongly believed in bringing Durham's business, non-profit, and art communities together to better served the community as a whole and Outsiders has become a venue where hundreds of locals gather for a monthly open house to enjoy art, music, food and the community. When asked about Outsiders, Durham resident Diana Bello says, "As a life long Durhamite, I am amazed a how much community involvement Pam Gutlon has brought to Durham via Outsiders. She has introduced outsider art to us in a way that brings together people from all walks of life and exemplifies the multicultural and diverse reality of who we are in Durham. Her Gallery is not only are great for the art community and artists, but I believe for all of those who participate…be it the musicians, food truck vendors, the eclectic group of folks who come by invitation or just those who wander in and later become regulars at Outsiders Gallery. If you have not visited this charming little Gallery on Iredell Street, you are missing something wonderful and magical."
Although the recession hasn't helped art sales, Gutlon has continued to plug away at her mission to expose people to outsider art, mostly focusing on the emerging artists rather than on the 'masters.' Gutlon says, "There are a lot of gallery's that have amazing collections from the masters like Jimmy Lee Sudduth, Mose Tolliver, etc., and while those artists were my first loves, it's more fun for me to find and work with the new kids on the block." As such, the 2 year anniversary exhibition focuses on two of those 'emerging' artists; Bart Schultz, 'The Masking Tape Guy' and Chris Milk Hulburt. Both artists will be at the November 2 reception.
About Bart Schultz "The Masking Tape Guy":
Bart was born in Lancaster, Pennsylvania in 1960 and currently resides in Richmond, Virginia. He is a self taught artist working with masking tape and found materials which he collects on a daily basis – discarded wood from a cabinet shop dumpster and whatever else he might find. As Bart says, "My work just happens. I grab a piece of wood, grab the tape and make stuff. It's like doing a jigsaw puzzle where you have to make each piece and the picture is in your head. Over the last 4 or 5 years I've made roughly 600 figures, sculptures and random objects using masking tape and found materials. I stopped numbering them in early 2011. My work is spontaneous and usually influenced by the events in my life. One piece leads to the next. Keeping things fresh is what it's all about for me." Bart was recently profiled on Dick Gordon's "The Story."
About Chris 'Milk' Hulburt:
Milk taught himself to paint in his twenties when he was painting houses and his own house was filled with left over paint and cast off wood. He sold his first paintings on the street in Manhattan and then returned to Virginia, in 2001. His paintings are autobiographical, or as he says, 'Perhaps they are wishes. They are usually about serenity, hope, and the fear of loneliness. They are about hats I wish I had." In addition to his painting, he also performs with his sister, puppets, and musicians.
For more information about this event, contact Pamela Gutlon at pgutlon@outsiders-art.com, or call 919-451-3231.