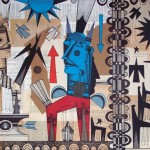 A Return Engagement with Outsider Artist Bruce New
Saturday, March 10th
5:30 – 8:00 PM
On the porch: Live music by Katherine Whalen and Her Fascinators
On the street: Only Burger and The Parlour food trucks

Please join us for an exhibition and reception with artist Bruce New on Saturday, March 10 from 5:30 to 8:00 pm.
As always, you can donate to Book harvest by bringing your new or gently used books for children and young adults. This event is free and open to the public.
About Bruce New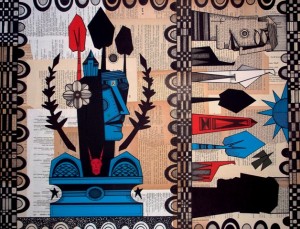 "My work is an attempt to document my existence – to leave a visual record of my thoughts, ideas, and fantasies. I reside in the wilds of Kentucky, with a bird and our son, on a mountaintop, right next to the sun, where I create my artwork high on butterfly wine."
Bruce New has lived in Kentucky his entire life and has always made art. As a child he created notebooks of comic heroes and battle scenes of war but never thought he could be an artist and instead dreamed of being Reggie Jackson. Bruce uses pen on paper, usually from old books, and does the drawings in parts, cutting them up and then using collage to make them into new different compositions. He has a compulsive "need" to make these things and the work basically makes itself; he just tries to not get in the way.