Thursday, April 7
5:30 – 8:00 pm
Partners for Youth Party on the Porch Fundraiser
Live Music by The Verge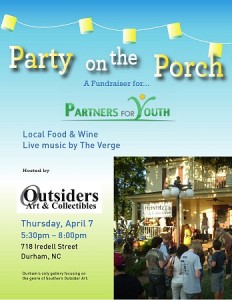 Durham's Partners for Youth (PFY) is having a lively, fun art-filled evening to raise funds. The "Party on the Porch" will be held at Outsiders Art & Collectibles on Thursday, April 7 from 5:30 – 8:00pm at 718 Iredell Street in Durham.
The event is part of a 3-month Challenge Campaign to raise $10K to secure a matching grant from The Stewards Fund. From now until May 14, 2011, any gift from a new donor or any increased gift from current donors will be matched dollar-for-dollar by the Stewards Fund up to $10,000!
Prepare to groove to live music from The Verge and enjoy food and wine generously provided by Blu Seafood and Bar, The Q Shack, Spartacus Restaurant, Wine Without Borders and Jimmy Johns. Create your own piece of art with materials provided by Happymess. While the event is free and open to the public, we will welcome donations. We will hold a raffle for an original piece of artwork. 10% of sales at the event will benefit PFY. Partners for Youth board members, mentors and students will be present at the event to meet the community and share their experiences.
About Partners for Youth: Since 1998, Durham's Partners for Youth has operated under the belief that it takes a village to motivate and educate a teen. PFY invests in the success of Durham teens working to overcome challenges in their lives, surrounding them with unique 360° mentoring and the resources they need to become leaders in their schools, workplaces and community. Our unique 360° mentoring matches each teen with four mentors – community-based mentor, Duke student tutor mentor, school-based mentor and job-based mentor. For more information on PFY, visit www.partnersforyouth.org