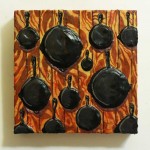 A Show of Encaustic Skillets by Durham Artist Libby Lynn
Thursday, June 14
5:30pm – 8:00pm
On the street: Pie Pushers & The Parlour food trucks.

Join us for an exhibition and reception with artist Libby Lynn on Thursday, June 14 from 5:30 to 8:00 pm at Outsiders Gallery at 718 Iredell Street in Durham.
As always, please donate to Book Harvest by bringing your new or gently used books for children and young adults.
About Libby Lynn
Born and raised in Denver, Colorado, Libby Lynn moved to Alabama in 1992 and eventually settled down in North Carolina in 2000 where she discovered the ancient technique of Encaustic painting.
Encaustic paint is a combination of beeswax, tree sap and pigment. The wax paint is melted and quickly transferred to a hard surface. In order to become chemically stable, each layer of wax must be fused with a heating device. Hair dryers, hot guns and propane torches are the most common fusing tools.
Because store-bought Encaustic supplies are expensive, Libby learned how to make her own paints and frames and buys local beeswax from the Durham Farmer's market.  She uses both traditional and experimental dry pigments.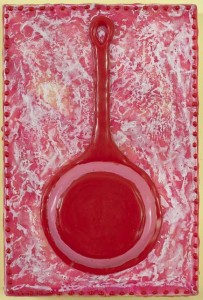 In reference to this exhibit at Outsiders Libby says, "My skillet fetish is rooted in some weird, neurological post-pleasure syndrome – similar to PTSD, but instead of a catastrophe, the repeat button has stuck on a moment of intense pleasure. My grandmother's family is Southern; most of them live in Eastern Alabama. My great uncle built our family farmhouse on a large plot of land in Lee County; rolling hills, horses and cows.
The first time I walked into the farm kitchen, I found myself face-to-face with a beautiful pine wall literally covered in cast-iron skillets. Time stopped, my heart popped open and the moment solidified itself firmly in my mind. I began painting cast-iron skillets in 2008, and find myself continuously drawn back to its form, its many varieties, and the stories sealed inside a well-seasoned frying pan.
Creating Encaustic skillets is an intoxicating and time-consuming process. I create each wax skillet stroke by stroke, building up and fusing the layers of wax until the piece tells me it is done. The majority of skillets in this show are drawn from images – and sometimes actual pans – that friends and strangers have sent me over the years. Each has a story behind it – and a whole life of delicious meals – but it all started on that flash of a moment so long ago. To me, a cast-iron skillet represents Southern culture, cuisine and an object of great beauty that brings folks together. I am dedicating this show to my grandmother, Mary Colman, who is 89 years old in Opelika, Alabama. She's not a great cook, but she taught me never to wash a skillet with soap."