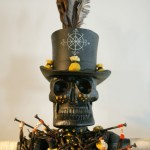 Wed, February 29th
In recognition of Black History Month, join us from 5:30 – 8:00PM for a special benefit for Durham artist Odinga Tyehimba.

Witness this compilation of work that has driven this local artist for over a decade, and help support the completion of this odyssey so the work can be included in an upcoming show at The Gregg Museum of Art & Design at North Carolina State University.
5:30-7:00PM: Reception with Odinga ($25 pp)
Performance by spoken word artist r.c. glenn.
Food provided by Durham Catering Company and Guglhupf.
7:00-8:00PM: General Admission ($10 pp)
100% of funds raised will go towards funding final pieces for the exhibit at NC State.
___
About Odinga Tyehimba: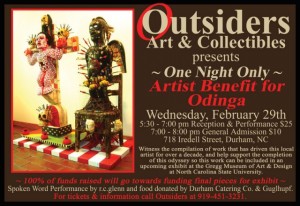 Odinga Tyehimba was born August 9, 1972 in Mound Bayou, Mississippi. Growing up mainly in Chicago, Ill. and southern California on U.S. military bases, Odinga enlisted into the U.S. Marines before his last year of high school and then into the U.S. Army. Although always creating art as a child, it was during his time in the military while traveling abroad, that he began to push his creativity in new directions. It was then that Odinga started to feel a growing sense of cultural awareness and began to use his art to reflect his feelings about the history of race oppression.
As a self-taught artist, Odinga has explored the use of wood as his primary medium, incorporating found objects and various materials into his work. Throughout the past 17 years, as a ritual artist, Odinga has been largely influenced by the traditional art and cultures of various African people and has combined this with his interpretation of the contemporary and historic experiences of "New World Africans." His current project, Rebel Shrine, consists of various ritual power-figures which work in unison to form a visual commentary in contrast to the impact of cultural imperialism that stems from the Euro-centric worldview. Odinga's objective has been to inspire healing and self-realization through his work. Rebel Shrine has been chosen to be part of an upcoming show at The Gregg Museum of Art & Design at North Carolina State University.
Glenn Hinson, Associate Professor of Folklore and Anthropology at University of North Carolina at Chapel Hill, has watched Odinga's work evolve for many years. He wrote "Few artists create work that can truly be called "monumental. Not merely in terms of size, but in terms of power, of its ability to challenge, to shake, to transform. Tyehimba is one such artist. For more than a decade, Odinga Tyehimba has been working on a single monumental piece, a multi-figured altar whose layered complexity speaks to cultural history, spiritual emergence, and personal growth. Each component of this masterwork tells a textured story, inviting viewers to confront the historical and spiritual realities of the African American experience. These realities are anything but comfortable; the same could be said of Odinga Tyehimba's work. Carved wood, hammered copper, knotted ropes, dripped paint, forged iron, bound amulets, and much more—all bearing evidence of painstaking handwork—combine in tableaus of spirit, challenge, terror, and transcendence. These individual tableaus, in turn, stand together in a yet-unfinished installation, each referencing the other, each tying together a chronicle of a people's journey and a single artist's struggle to understand it.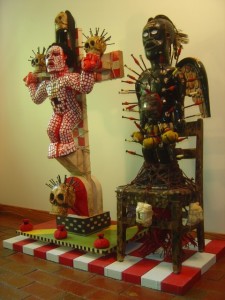 Odinga Tyehimba artistry emerged at the same time as his political awakening, in his latter years of high school. Hip-hop offered an early guide, exposing him to the political history-telling of emcees who rhymed narratives of oppression, colonialism, enslavement, and Diaspora unity. Tyehimba found himself inspired not only by these artists' words, but also by the material dimensions of their performances, and particularly by the African-themed staffs brandished by some of the emcees. His effort to create his own versions of these sticks led him to carving, while his curiosity about the recounted stories led him to study African and African American history. He pursued both paths very much on his own, teaching himself to carve while reading history and beginning to explore the spiritual realms that such history demands. As his understandings developed, so too did his artistry, such that the latter became a vehicle of the former. Increasingly, his art came to address the complexities of historical experience, invoking stories and spirits, questions and realizations, challenges and epiphanies. The altar emerged as a testament to this intellectual, emotional, and spiritual journey.
Over the years, the altar has grown and changed, with new pieces added, old ones removed, and everything constantly being revised, the pieces' stories ever deepening. It has also never been displayed in its entirety. The full altar already represents many thousands of hours of work; Odinga Tyehimba predicts that a few hundred more will bring it to completion. At that point, it promises to stand alongside such masterworks of American vernacular art as James Hampton's Throne as a testament to vision and spirit."
About Outsiders Art & Collectibles:
Outsiders Art & Collectibles is Durham's only gallery focusing on the genre of Southern Outsider Art. Outsider's owner, Pamela Gutlon prides herself on using the gallery not only as a venue for exposing Durham to Outsider Art, but also as a means towards creating community.