Bart Schultz, "The Masking Tape Guy"
Reception, Friday, November 12, 2010
7:00 – 9:00 PM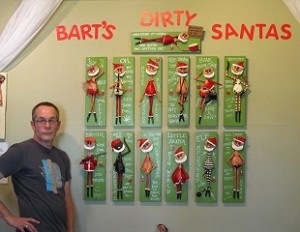 Outsiders Art & Collectibles will host an exhibition of 13, one-of-a-kind, risqué 'Santa's' by masking tape artist Bart Schultz on Friday, November 12 from 7:00 to 9:00 pm at 718 Iredell Street in Durham. This event is free and open to the public. Viewer discretion is advised.
About Bart Schultz, "The Masking Tape Guy"
Every once-in-awhile we get an opportunity to say "I knew him when." This is ours! For those of you who have seen the work of Bart' Schultz, you know that he can make masking tape look, feel (and smell!) like leather and skin and has created incredible well-known and imagined people, places and things. For those who haven't seen his work yet, prepare to be amazed. Bart is one of the most talented and creative outsider artists of our generation and his star is climbing fast!
Bart is a self-taught artist living in Richmond, Virginia. Over the years he has experimented with a number of art forms, most often related to sculpture in one form or another. Several years ago he started playing around with masking tape and somehow it all turned into a full-time gig. While Bart has a great appreciation for American folk art, self-taught southern artists and outsiders, as well as many contemporary artists, he's worked hard to create and develop his own style of work, never mimicking the work of others.
About Outsiders Art & Collectibles:
Outsiders Art & Collectibles is Durham's only gallery focusing on the genre of Southern Outsider Art. Outsider's owner, Pamela Gutlon, strongly believes that bringing Durham's business, nonprofit, and art communities together better serves the community as a whole. In the spirit of this collaboration, Sew Durham Studios, a group of sewing artists who share space with Outsiders, will also be present to display and sell their work and speak with visitors. The artists of Sew Durham Studios are Amelia Burch, Jennifer Collins-Mancour, Andrea Stephens, and Katharine Whalen.
For more information about this event, contact Pamela Gutlon at pgutlon@outsiders-art.com, or call 919-451-3231.