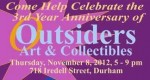 November 8, 5-9 PM
Join Outsiders Art & Collectibles as we celebrate our 3 year anniversary with a "Small, Small, World" exhibit by renowned artist Cher Shaffer, music, food and a fundraiser for Student U!
Outsiders Art & Collectibles Turns 3!
November 8, 5:00-9:00PM
718 Iredell Street, Durham, NC

What to expect:  A "Small, Small World" exhibit by renowned Outsider Artist Cher Shaffer; Live music from Cedar AV, Phil Cook and His Feat, Katherine Whalen, The Blue Tailed Skinks, and several surprise musical guests; All-ages art project provided by happymess; Food and drink will be for sale from Only Burger, Ko Kyu and Fullsteam Brewery. Tickets are $10 at the door and the first 200 attendees will receive a beer from Fullsteam and a donut from RISE. In addition, all vendors and the gallery will donate a percentage of sales towards the fundraiser for Student U.
About Cher Shaffer:
Cher Shaffer was born in Atlanta, Georgia in 1947 on a small farm. She spent her youth surrounded by earth, sky and the whistling pines of the American South. Her mother, who was of Native American decent, accompanied Cher on many of her long walks and taught her about the woods and lands that they both cherished. Cher began painting shortly after the death of her gifted mother. As Cher explains, this event opened a "Pandora's box" of emotions and memories. Painting these memories seemed the best way to express and preserve her cherished childhood.
In 1978 with no formal training, Cher began transferring her memories to canvas. It was a significant factor in healing her grief over the loss of her mom. Her early works are depictions of church gatherings, warm holidays, festive celebrations and the everyday chores of life on a rural farm. They are idyllic and flavored by the innocence of youth. Cher's work developed and began a departure from these traditional folk art scenes into true fantasy interpretations. Electric color with smooth graceful lines evolved.
In 1985 Cher's life again took a tragic turn. Due to extreme exhaustion Cher's heart failed. She emerged from this terrifying event with a greater sense of responsibility for what she would leave behind. Her work began to explore the question of death. Ghostly images began to haunt her style. She describes her work from this period as coming from a "primal level". In addition to painting, Cher also works in wood, stone, mixed media and designs three-dimensional creations such as dolls and masks.
Cher's career as an artist is highlighted with many accomplishments. She is represented in several public and private collections including that of Whoopie Goldberg, Jane Fonda, Richard Dreyfus, Rob Reiner, Henry Winkler and one of her most appreciated, fellow artist, Thornton Dial. In 1989 Shaffer's work appeared in the traveling exhibition O, Appalachia: Artists of the Southern Mountains and in the publication by the same name. Also in 1989 she appeared on the "Today Show" on NBC. Her work has been featured in several publications including Art Voices South and Country Home. Her art has been the subject of numerous one-woman and group shows, and she frequently conducts workshops with children and adults. Cher will be in Durham for the week of November 5 providing workshops throughout Durham as Outsiders' first 'Artist in Community.'
About Student U:
The mission of Student U is to empower students in the Durham Public Schools to own their education by developing the academic skills and personal well-being necessary to succeed in college and beyond. Student U provides academic and personal enrichment services to almost three hundred 6th through 11th graders in the Durham Public Schools. Student U collaborates with families, community members and partner organizations to create a pipeline of services for students from the summer before sixth grade until their high school graduation. Through a six-week summer academy and year round after school academic tutoring and advising program, as well as in-school advocacy and support, Student U's goal is that all students graduate from high school with their cohort with the ability to succeed in college.