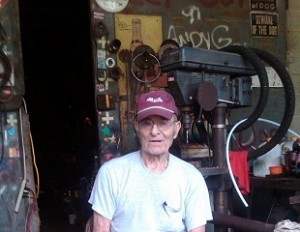 Vollis has lived in Lucama his entire life. He served in the Army Air Corp from 1941 to 1945. He opened a repair shop for trucks, tractors and lawn mowers when he returned. Both experiences, and the fact that he never throws anything away, led him to create his first wind-driven piece around 1969.
Vollis doesn't do things in a small way. His first work was 40 feet tall! Vollis has built a number of these amazing windmills on his property across from his repair shop. He gets broken reflector signs from the D.O.T. and applies these to his painted constructions so that when seen by light at night they are eerie and fascinating.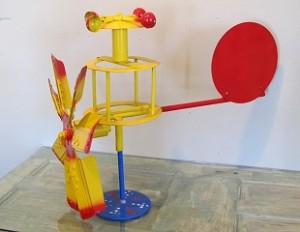 The American Visionary Art Museum in Baltimore, MD features a work by Vollis that's "Baltimore's newest and already most beloved outdoor sculptural landmark. Fifty-five feet tall, this brilliant, multicolored wind-powered sculpture was created in the central plaza as a salute to Federal Hill and "Life, Liberty & The Pursuit of Happiness."
Vollis also makes smaller whirligigs with many things happening at once as the wind blows: great movement of men on bicycles, animals, airplanes, cars, wagons, etc.