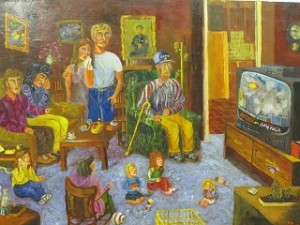 Ray Matthews, 54, lived in South Hill, Virginia, a town that inspires many of his paintings until 1966, at which point he moved with his parents to Richmond. He graduated from Thomas Dale High School in 1973. He liked to sketch, but was more drawn to music in high school, and after he graduated he played mandolin in several bluegrass bands.
Artist featured on Dick Gordon's "The Story" on NPR.
Ray Matthews captured his memories of South Hill, Va. on canvas and tucked the paintings away in his apartment for years. He worked low-wage jobs and continued to paint. He sold one painting to the local general store to get some money for medicine for his mother. When Janet Hubbard noticed that painting in the store window, she set out to meet Ray. She fell in love with his work, and she helped give Ray his very first gallery opening. She also convinced him to enter a prestigious local art show. Dick Gordon talked to Ray and Janet about their unexpected partnership, the art contest results and how they're dealing with the sudden popularity of Ray's work.