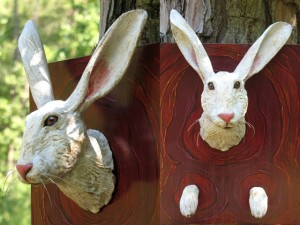 Laura was the first of three kids born to a restless Baptist minister and an artistic housewife in the early '60s. Their wayward family provided her with a different definition of 'home' which was impermanent and not centered in any particular locale.
Laura grew up north and south of the Mason-Dixon Line and with a focus in painting, split her college years between MICA and Montana State University, earning a BFA in 1984.
In 2001, with the intention of realizing some concepts in clay, Laura began a sustained exploration of the medium. Working in clay has allowed her to add dimension to her visions and to experiment with surface richness and variation.
Traveling to Africa and India seeded an ongoing fascination with and appreciation for other cultures and traditions that blossomed into an indelible muse. Conceptually, comparing and contrasting the spiritual, ancestral and symbolic aspects of tribal life with those of our own culture has fueled many creative explorations.