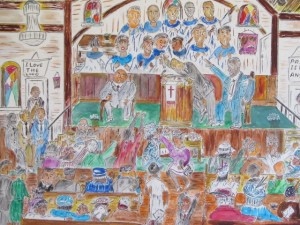 Through his art, Eddie Hayes offers a vast and detailed history lesson of the bygone traditions of North Carolina farm life. Hayes was born in 1951 in Atkinson, North Carolina. Raised by his grandparents and by an uncle who lived next door, he began helping out with farm chores at a very early age. By the time he was in school, he was involved with all aspects of agriculture — from growing and harvesting tobacco, corn, and soybean crops to raising hogs.
When he was eight years old, Hayes was asked by his teacher to write a story about what he did with his summer. He responded with a series of sketches that meticulously illustrated the work on his grandparents' farm — and with this first act of visual storytelling, his love of art was born. Hayes continued to render his world throughout his school days. Since graduating from high school more than three decades ago, he has worked in a series of farming and manufacturing jobs — and he has continued to perfect his drawing and painting techniques, all the while capturing an era that has all but disappeared from his home in rural North Carolina.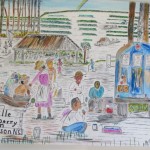 Entirely self-taught, Hayes creates his extraordinary memory paintings by first sketching an image with a pencil. Then he fills in the image with a seamless blend of pens, markers, and watercolors. It often takes him up to a week to finish a piece, as he saturates every inch of his paper canvas with finely executed details. His works feature such subjects as tying tobacco, curing, hog slaughters, and harvesting. An enduring sense of community and family is woven through his pieces, which bear testament to the hard work, fortitude, and ingenuity exhibited by generations of farmers whom Eddie Hayes had the good fortune to work and play alongside during his youth.
Unfortunately, the factory he was working at closed down and his unemployment money has ended.
(Bio used with permission from The Ginger Young Gallery)