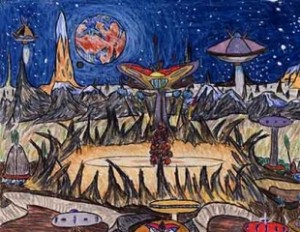 Edward Woltemate, Jr. creates art that can take you to another world. His brilliant artwork has fantastic color and design. Despite being born deaf April 4, 1944, he creates art that captures his audience in his fantasies.
Woltemate went to two main schools, The Pennsylvania School for the Deaf in Philadelphia, Pa, and The American School for the Deaf in Hartford, Connecticut, where he was mentored in drawing.
Ed has had a lifelong interest in the extraterrestrial, and has created his science fiction drawings with colored pencils his entire life.  Most of his art that remains dates from the last twelve years, since his marriage to his wife Elaine.
Ed is a very organized man with a logical mind. He produced a number of works describing: The climate, topography and intricate details of life on each planet.